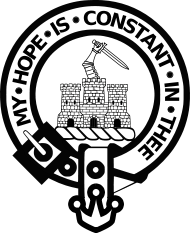 The McCrindles are a sept of Clan McDonald of Clanranald which is itself a branch of Clan Donald. Clan Macdonald of Clanranald descends from Raghnall (d.1207), son of King Somerled (d.1164). Raghnall's eldest son Domhnall became chief of the head Clan Donald while his second son Ruairi became chief of Clanranald. By the early 14th century the direct male line of the chieftainship of Clanranald had died out
John of Islay, Lord of the Isles, 6th chief of Clan Donald inherited lands between the Great Glen and the Outer Hebrides through his marriage to Amie MacRuari, the female heiress to the Lordship of Garmoran and chieftainship of Clanranald.
The two distant relatives John of Islay and Amie MacRuari both descended from the first Ranald who died in 1207, son of Somerled. Together they had a son called Ranald (d.1386) who took over as chief of Clanranald and was also expected to succeed his father John of Islay as chief of Clan Donald. However, John of Islay later married Margaret Stewart, the daughter of King Robert II of Scotland and they had a son called Donald who succeeded John of Islay as chief of the head Clan Donald.
In 1373, Ranald (d.1386) received a charter confirmed to him by his father John of Islay, Lord of the Isles. The charter was for the greater part of the MacRuari inheritance including the districts of Moidart, Arisaig and Lochaber.
Ranald had five sons. The eldest was called Alan (d.1430) who succeeded as Chief of the Clanranald. Alan's younger brother Donald became Chief of the Clan MacDonell of Glengarry.
In a bond of manrent, dated 1571, between Angus MacAlester of Glengarry and Clan Grant, Glengarry makes an exception in favour "of ye auctoritie of our soverane and his Chief of Clanranald only". This is held by Clanranald of Moydart as an acknowledgment by Glengarry of the Captain of Clanranald as his chief.
The name McCrindle is a derivative of McRanald.